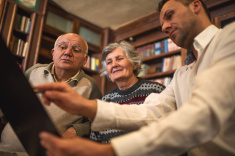 IHS Insurance Group, LLC has been writing Medicare Supplement policies for more than a decade and proudly serves thousands of loyal, satisfied customers across the country!
TOP MEDICARE SUPPLEMENT PLANS 2017
A Medicare Supplement Plan is purchased to cover the costs that Medicare Part A Benefits do not cover.  These plans require an additional Part D Prescription Plan since prescription coverage is not covered with a Supplement Plan.
Medicare Advantage Plans are an alternative that replaces the traditional Medicare and Medicare Supplement Plan combination.  
Part D prescription Plans are also at times required with a Medicare Advantage Plan.  For more detailed information about Medicare Part D Prescription Plans please see . . . MEDICARE PRESCRIPTION PLANS: WHAT YOU NEED TO KNOW.
It is important to understand the difference between each of these policies in order to ensure that you choose the right options to suit your needs.  Fore more information please review . . . THE DIFFERENT PARTS OF MEDICARE.
Enrollment Periods vary for each of these plans, so it is very important to know when you need to enroll in the plan you are considering and when you can shop for new plan options if interested.  For details on the enrollment periods that apply to these plans please see  . . . MEDICARE PLAN ENROLLMENT: DIFFERENT PLANS, DIFFERENT ENROLLMENT OPTIONS.